VidiCable FAQs
Q1. How to register VidiCable?
Please click the Key icon or the Menu icon (on the upper right) > Register. There will be a registration popup dialog, where you can copy and paste the registration email and license code.
Generally, once an order has been validated, the license key will be sent to the email address you entered for the purchase shortly. If you do not receive the license key within a few minutes of purchasing, please check your Spam or Promotion E-mail folder just in case it was incorrectly classified as spam or promotion email. Sometimes the arrival of this registration e-mail can be delayed, due to delays caused by internet or system glitches, email typo, etc. In this case, please contact us for assistance.
Q2. Which platform does VidiCable support?
VidiCable supports free recording videos from Twitter, YouTube, Vimeo, TikTok, Dailymotion and more. Once subscribed to it, and you'll also get a powerful streaming video recorder that can help you download shows and movies from the most popular video streaming sites including Netflix, Amazon Prime, Disney+, Hulu, HBO Max on Windows and Mac computers.
Q3. What's the format of the downloaded video?
MP4 or MKV. VidiCable can record video from Twitter, YouTube, Vimeo, TikTok, Dailymotion, Netflix, Amazon Prime, Disney+, Hulu, HBO Max in MP4 or MKV format so that you can enjoy them on most of the devices freely. You can change the output format on the General Setting window.
Q4. Why is the registration license still invalid or expired after renewing?
After the renewal, you will receive a new license. Please tap on the Menu icon of VidiCable program, then click "Register" > "Change Account" and enter the new license to activate the program again.
Q5. How to cancel the auto-renewal?
The Auto-renewal service of all subscription-based programs is enabled by default. If you want to disable it to avoid renewal charges, you must do so before the renewal date. And there are two ways to cancel the auto-renewal:
Method One: After finishing the order, you will receive an email with a license included, where there is a link to cancel automatic renewal. It should be at the bottom of the email, saying that "To cancel the auto-renewal subscription, click here". Here you can manually disable or cancel auto-renewal.
Method Two: Feel free to contact us by emailing support@vidicable.com, we will help you cancel the service timely.
Once the auto-renewal service is turned off, you will receive a notification email (Cancel Subscription of xxx) showing the expiration date of your license code. And you won't be charged again after that.
Q6. How to speed up the download process?
VidiCable supports hardware acceleration with Intel/NVIDIA/AMD graphics cards, which will enable you to run the program more smoothly and speed up the download process. However, to achieve or take full advantage of hardware acceleration, you are required to have the latest version of the graphics cards installed on your computer. Here is how to check and upgrade the graphics cards:
1. The process of upgrading graphics cards is incredibly easy, all you need to do is: right-click the Windows Start menu and choose "Device Manager", find "Display adapters", right-click your graphics card and select "Update driver" in the drop-down list.
2. Sometimes driver upgrades might end in failure. No worries, you can also install the latest graphics driver from your graphics card manufacturer's website: Intel / NVIDIA / AMD (choose the exact one according to your computer). After upgrading your graphics driver, please reboot your computer to activate it.
Q7. What's the difference between External, Internal or Hardcode Subtitles?
VidiCable offers three kinds of subtitles encoding ways to meet users' needs for playing video on different media players or devices. The mode "External subtitles" will help you save subtitles as separate files.
"Internal subtitles" will make the subtitles be built into the output video, which will allow you to save multiple languages subtitles and switch as needed while playing the video on some players like VLC Media player.
If your media players or devices don't have the ability to switch or add subtitles, "Hardcode subtitles" is a great option to help you make the subtitles be burned onto your video. But please note that you can save subtitles in only one language to the video at a time with this mode.
Q8. What video quality can I download with VidiCable? (Amazon)
VidiCable enables you to get HD videos. There are three options for video quality (High/Medium/Low) in the settings window, enabling you to download videos with different output qualities according to your devices. To download HD videos, please make sure your computer supports playing HDCP-enabled content, otherwise, you can only record videos with low or medium quality.
Please click here, click the "V" icon and choose"1.0" from the drop-down list, then tap on "Get HDCP Status" to check whether your device supports HDCP-enabled content or not. If you get a result as below, then you can get HD videos with VidiCable.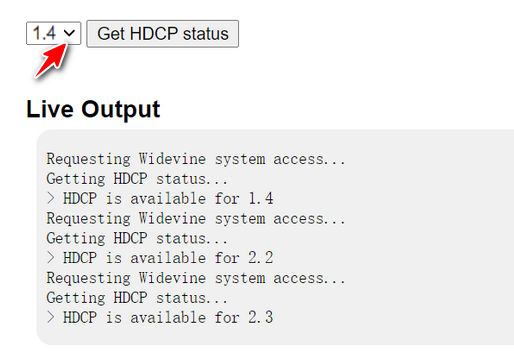 Q9. How to get videos at HD quality? (Netflix)
1. Netflix Basic plan doesn't provide high definition viewing, so VidiCable doesn't support to get HD video while working with the Basic plan.
2. Please make sure Netflix plays video in HD quality. First, you need to adjust the Netflix playback setting to High: sign into netflix.com, and select your profile. Under My Profile, select Playback Settings, then find Data Usage, and select High.
If you have done the above setting, but the downloaded video's quality is still poor (at around 480P), please follow these steps to check the original video's quality: Open Netflxi web player on Chrome browser, and play the video. Click "Ctrl" + "Alt" + "Shift" + "D" on the keyboard at the same time, then some details of the video will pop up, where you can check the video's resolution.
3. Netflix provides merely 480P quality for videos from Disney and Marvel on Chrome Web player. So currently, VidiCable does not support recording those videos at HD quality.
Q10. Solution to "Failed 6100" or "6120" or "6121"?
First, please log out (in the Setting window) and log back into your Netflix/Amazon/Hulu/Disney+/HBO Max account on VidiCable. And then please click the title you want to download in the search results list to check if it can be played normally in the popup web player. Some titles may be not available to watch instantly, resulting in them not being able to be downloaded by VidiCable.
Q11. Solution to "Failed 6122"?
The error code "6122" means that you entered the wrong PIN code, or didn't enter the code to allow the download. Netflix allows the primary account holder to control viewing with a PIN, called Parental Controls, as to ensures child does not watch content rated above selected maturity level and particular TV series or movies. So please enter the correct PIN code to allow the download.
Q12. Solution to "Failed 6123"?
The error code "6123" means that too many people are using your account right now. If you've shared your Netflix/Amazon/Hulu/Disney+ account with friends or family, they may be using it while you're trying to watch a movie or TV show. The number of users that can stream at the same time will depend on your streaming plan.
Q13. Solution to "Failed 6130" or "6200"?
When you download videos from Netflix, Hulu, HBO Max or Disney+, these two errors may be caused by an unstable network or download timeout. Please try to download the video again when the network is stable.
When you get "Failed 6200" while downloading Amazon videos, please click on the video's title on VidiCable, the video will be automatically opened in a pop-up browser, then please check if the video can be played normally in the web browser. If it is a paid video, please purchase the video firstly.
If the video cannot be played, please make sure the site you want to download video from match your selected site in Settings window.
For United Stated, select "Amazon US"
For Germany, select "Amazon German"
For Japan, select "Amazon Japan"
For United Kindom, select "Amazon UK"
For France, India, Canada, and others, select "PrimeVideo"
In addition, "Failed 6200" may also occur when you frequently search for videos or download videos in bulk since Amazon will prevent its users from accessing the video too frequently. In this case, please search for the videos by video links or access and download the videos later.
Q14. Solution to "Failed 6301"?
The error code "6301" means that the video is not available in your country. For this issue, please make sure the video can be played normally in Netflix web player first.
Q15. Solution to "Failed 1608"?
The error code "1608" means that the program failed to download the subtitles or audio tracks you selected. Please delete the video and then try to add and download it again.
Q16. Solution to "Failed 1609"?
The error code "1609" may happen when the display screen turns off. Please make sure the display screen is on when downloading the videos.
When you are trying to download Amazon or HBO Max videos and get this error code, first, please go to this page to check if your computer supports HDCP 1.0. Click the "V" icon and choose a specified version, such as "1.0", then tap on "Get HDCP Status" to check whether your device supports HDCP-enabled content or not. If you get a result as "HDCP is available for 1.0" or higher versions, then you are able to save HD videos from Amazon or HBO Max.
If your device meets the requirements but you still fail to download videos, please make sure you have not turned the screen off while downloading. If the problem persists, please send the latest log files of VidiCable to us for further analysis. You can find them by going to the program, click the Menu button (on the upper right corner) > Open log file. You will see a "logs" folder, please send us all the log files in this folder.
And please also send us the screenshot of this page that shows the testing results that HDCP is available for 1.0 or above.
Q17. Solution to "Failed 4001", "4002", "4003", "4100", "4101", "4102", "4103", "4106"?
These error codes may happen when the disk you are downloading videos to is running out of space, or the program fails to create or open the output folder. Please try to clean your disk and change the output path in the Setting window.
Q18. Solution to "No results found" when searching videos by using links?
First, please make sure the link is copied from Netflix/Amazon/Disney+/HBOMax/Hulu/HBO Max web player and the video is playable. Or you can try to search it by keyword or video name.
For downloading Amazon videos, please make sure your link is copied from the video's details page rather than the playback page. Simply find the video you want to download on Amazon web player and click it to view the video details and the available playback option as well, you can copy the video link from the address bar. Bleow are two samples for your reference, the second is the vaild link:
Invalid lnik: https://www.amazon.com/Prime-Video/b?node=2676882011
Valid link: https://www.amazon.com/gp/video/detail/B09NMZC3ZQ/ref=atv_hm_hom_3_c_ZWyNDQ_5kRTY4_1_1
Q19. Solution to other error codes or what if the problem persists?
If you get any other error codes not listed above or fail to solve the problem even though you've exactly followed the solutions, please send the info below to our support email (support@vidicable.com) for further analysis:
What is your computer OS?
Which website do you want to download videos from?
Please tell us the name or URL of the videos you want to download.
Please send the log files to us, which you can find by clicking the Menu button > Open log file. You will see a logs folder, please send all log files in that folder to us.
Haven't found the answer? We can help.
Contact Us
Contact us and we'll get back to you as soon as possible.