Best All-In-One Video Downloader: VidiCable Review
There are so many streaming platforms in the market now and they are all scrambling to expand their libraries and improve the quality of the videos, enticing people to subscribe to their subscriptions. So, it becomes extremely inconvenient when you want to download videos from all the streaming platforms as you need different video downloaders. To solve this problem, the all-in-one video downloader is invented. Here, we are going to introduce you one of the best all-in-one video downloaders: VidiCable.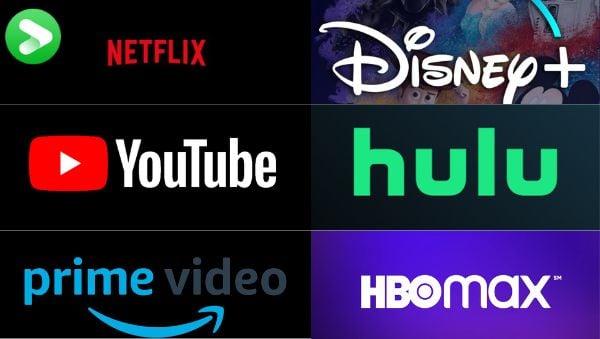 VidiCable is an all-new, multifunctional streaming video recorder or downloader, specially designed to help you download videos from social media platforms including Twitter, YouTube, Vimeo, TikTok, Dailymotion, Facebook, Vimeo, and more with no charge. Plus, simply pay some money to unlock its advanced function, then you can download content from Netflix, Amazon, Disney+, HBO Max, Hulu, Discovery+, Paramount+, etc. All the videos will be saved in MP4 or MKV format, so that you can transfer them to other devices and watch them anytime. With its help, you will get rid of the platform limits, the disturbance of ads, and frustrations due to slow or unavailable internet.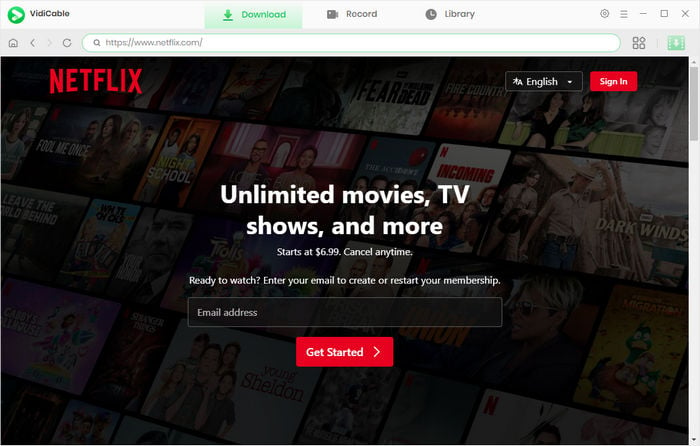 In this part, we are going to analyze the pros and cons of VidiCable to help you know the program thoroughly.
| Pros | Cons |
| --- | --- |
| Record Videos from Many Sites: VidiCable enables you to download videos from at least 10 streaming platforms from popular websites such as Facebook, Twitter, Netflix, Amazon, YouTube, Disney+, HBO Max, Hulu, Discovery+, Paramount+, and CBS, etc. | Limited Available Sites: VidiCable only supports about 15 streaming platforms, and there are still some widely-used websites not supported. |
| Download Multilingual Subtitles & Audio Tracks: VidiCable allows the downloaded videos to keep their original multilingual subtitles and audio tracks (5.1 surround sound is supported). | No Default Multi Selection: VidiCable has no default multi-selection for audio language and subtitles. You have to choose the languages every time in the Advanced Download window manually. |
| Download Videos in H.264 or H.265 Video Codecs: H.265 video codec enables you to download videos faster and saves more storage. The videos can be loaded more quickly, played more smoothly, and watched more clearly. | No Monthly Subscription Plan: VidiCable only offers the annual subscription plan and lifetime subscription plan for you currently. |
| Provide Three Different Subtitle Modes: VidiCable provides external subtitles, internal subtitles, and hardcode subtitles for you. External subtitles can be saved as separate files. Internal subtitles can be built into the videos. Hardcode subtitles can be carved onto the videos if your devices do not support the former subtitles. | Not that smart to change website: You have to go to the setting window to switch website, and the program needs to restart to apply the change. This is not very user friendly. |
| Classify Downloaded Videos with Metadata: VidiCable empowers you to keep the metadata information such as the title, date, duration, cover, format, and pixel of the downloaded videos, thus helping to classify the videos. | / |
| Support Free Updates & Technical Service: VidiCable offers free updates and technical support for you. You can turn to the support for help if needed. | / |
VidiCable is planning to add more websites in the future and is still working hard to solve technical problems. VidiCable cares about every customer's needs and the problems you meet, and it will strive to correct its deficiencies, creating a satisfying program for you all.
In this part, we are going to introduce you the prices of VidiCable. There are two kinds of subscription plans for you: the annual plan and the lifetime plan. To purchase an annual plan, you need to pay $99.9. To purchase a lifetime plan, you need to pay $199.9. You can choose the plan according to your preference. The monthly plan is not available right now. If you want to purchase products monthly, you can turn to our partner company SameMovie.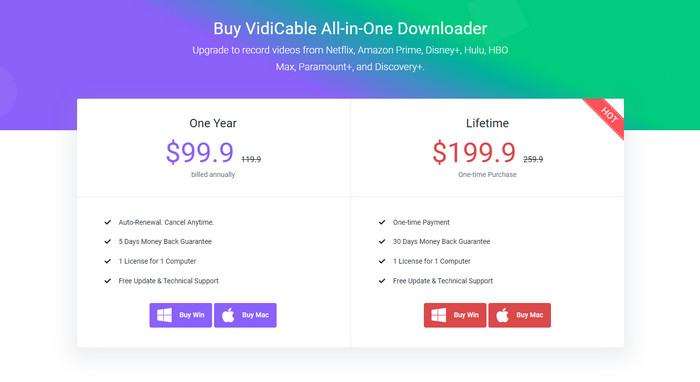 Note: VidiCable does not offer a one-month free trial for you, yet you can try the trial version to download the first 5 minutes of each video.
Step 1

Launch VidiCable and Register

Launch VidiCable first. Please click the Key icon or the Menu icon (on the upper right) > Register. There will be a registration popup dialog, where you can copy and paste the registration email and license code.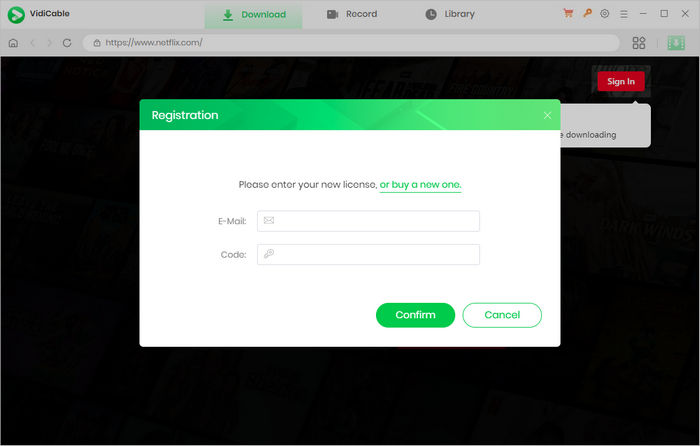 Step 2

Select Website and Log in to account

Click the Setting icon and choose the website you want in the Account Settings. The following tutorial takes Netflix as an example. The program will restart to apply for your selection. Click Sign In and there will be a pop-up page prompting you to log in to your account of the website.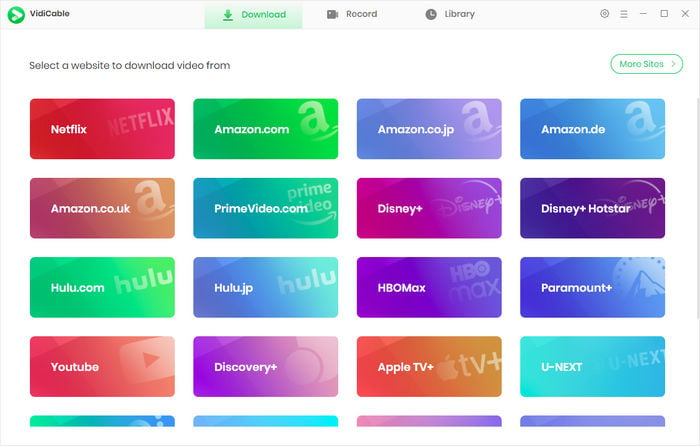 Step 3

Customize Output Settings

Next, you can choose the output settings such as quality, audio type, language, etc. in the Setting window.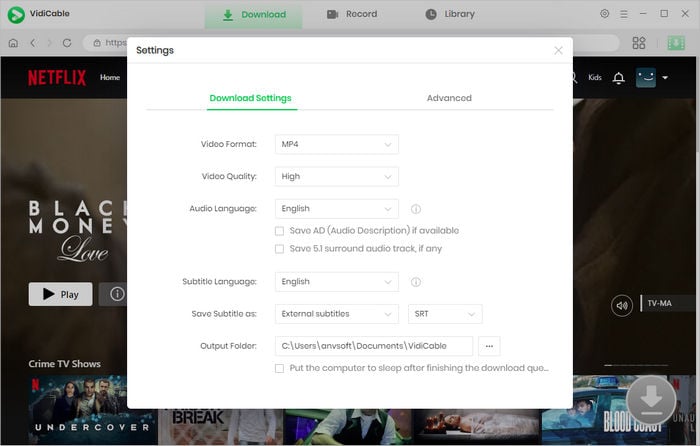 Step 4

Add Video

With its built-in browser, VidiCable Video Downloader allows users to seamlessly navigate the software, mirroring their usage on the orginial platform. You can search for the video by entering the name directly in the search box.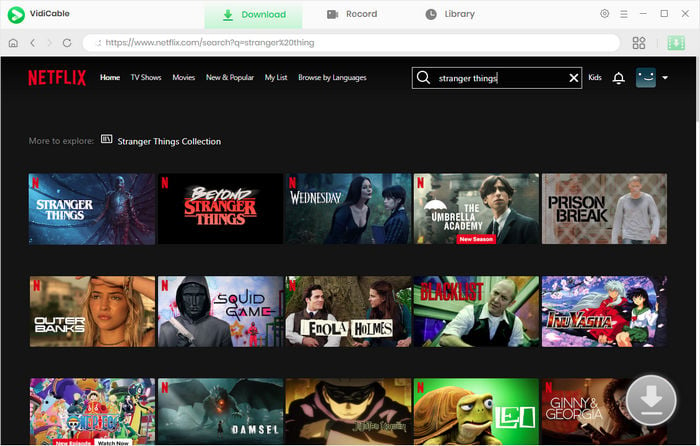 Step 5

Select Advanced Download

By clicking on the thumbnail of the video, you will be directed to the video's details page. At the same time, the gray download button in the lower right corner will turn green. Before downloading, you can customize the quality, subtitle language, and audio track in the Advanced Download window.

If you want to download a movie, you can click the "Download" icon to open the Advanced Download window. If you want to download a TV show, you can just click the download icon then the "Advanced Download" button on the bottom left of the pop-up window.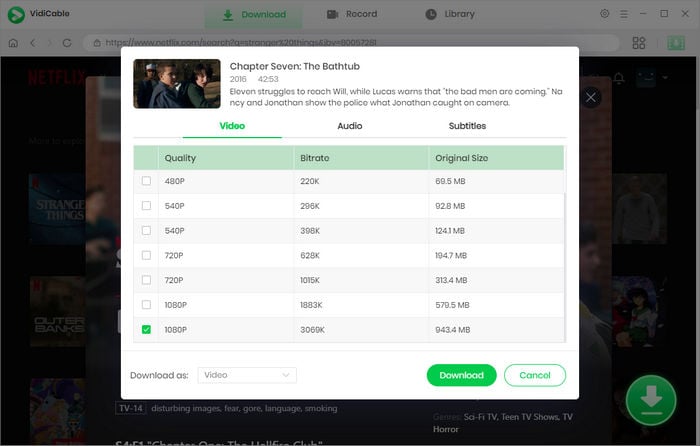 Step 6

Download Video

You can click the download icon to download the added video, and the video will be added to the output folder you set before. You can check the downloaded videos in the Library.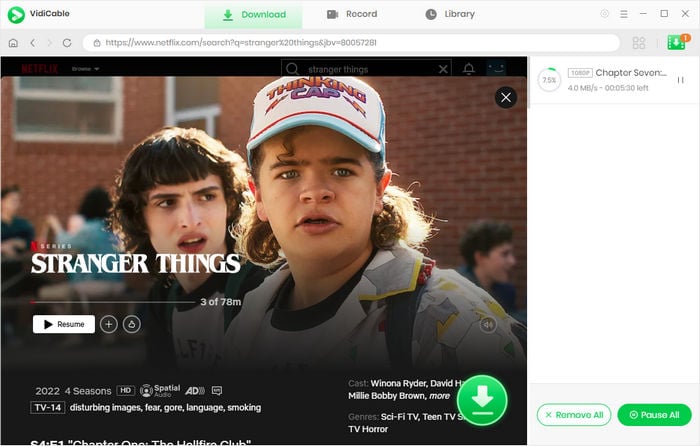 Now you should have known something about VidiCable, which is definitely worth a try. Install it on your computer and download videos from different streaming platforms to enjoy, VidiCable won't let you down!
Got another minute? Check out: