Watch HBO Max Video Offline without the App
As a streaming service platform that was launched in 2020, HBO Max is developing at an amazing speed, reaching a number of subscribers of 76.8 million by the end of the first quarter of 2022. In addition to the usual HBO titles, the service also includes content from DC, TCM, CNN, TNT, Crunchyroll, Studio Ghibli, and more. The variety of content has allowed its users to reach an astonishing level in a short period of time even though the subscription fee is relatively higher than that of other streaming platforms.
It's easy to download HBO Max videos and watch them offline. However, HBO implements some restrictions on it. Users can only download up to 30 titles at any given time. This rule applies to all profiles and devices associated with the account, which means it can be a potential hindrance for extended families sharing accounts with multiple people. Also, if someone starts to watch the downloaded video, the person must finish the watching within 48 hours. And anyone else who wants to watch the video needs to download it again.
So, is there any solution that can help to solve those problems? Some may wonder if we can watch downloaded HBO Max videos without the App, thus avoiding the restrictions. This idea is brilliant and here we can introduce you to a way to watch HBO Max video offline without the App. All you need to do is to install the HBO Max Video Downloader and the program will help to solve all your problems.
---
Tool Required: VidiCable HBO Max Video Downloader
VidiCable Video Downloader is a powerful program, and with the help of it you can download videos from different streaming websites. Over 15 websites are provided on VidiCable and HBO Max is included. This program can help you to download HBO Max videos to MP4 or MKV format in high quality. It also offers multilingual subtitles and audio tracks. Both Windows and Mac users can install and operate the program. The videos you want to watch offline will be downloaded fast and you can watch them on any device you prefer.
VidiCable is an all-in-one program, which means that you can not only download videos from HBO Max, but from Netflix, Amazon, Disney+, Hulu, Discovery+, Paramount+, Facebook, Twitter, YouTube, TikTok, and so on. With a subscription fee of one month, you can download videos from all mainstream platforms. That would be cost-effective, isn't it?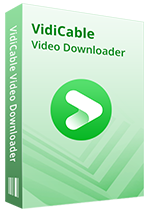 Features of VidiCable HBO Max Downloader:
Free record videos from Twitter, YouTube, Vimeo, TikTok, Dailymotion and more.

Upgrade to record shows and movies from Netflix, Amazon Prime, Disney+, Hulu, HBO Max, Discovery+, Paramount+.

Save your favorite videos in MP4 or MKV format.

Preserve multilingual audio tracks and subtitles.

Safe and clean, no ads or any plugins.
Download Win
Download Mac
---
Tutorial: How to Download HBO Max Videos with VidiCable
To start reading the tutorial, it is suggested that you install VidiCable Video Downloader on your pc first.
Step 1

Select Website

Launch the program and you can see a pop-up window listing various websites for you. Choose HBO Max from supported sites.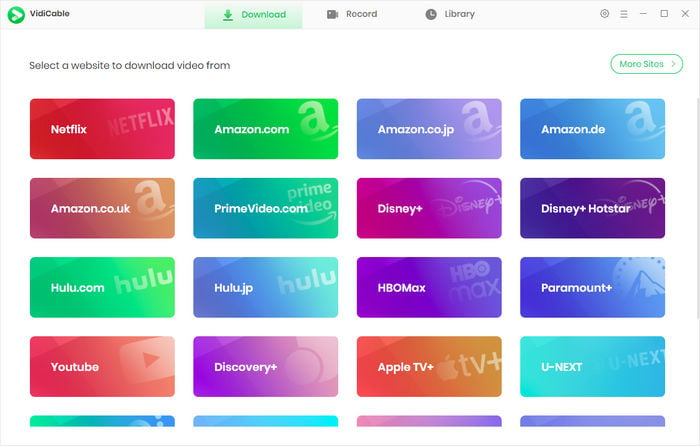 Step 2

Log into Your HBO Max Account

You need to log in to your HBO Max account to continue the operation. Click Sign In and there will be a pop-up page asking you to log in.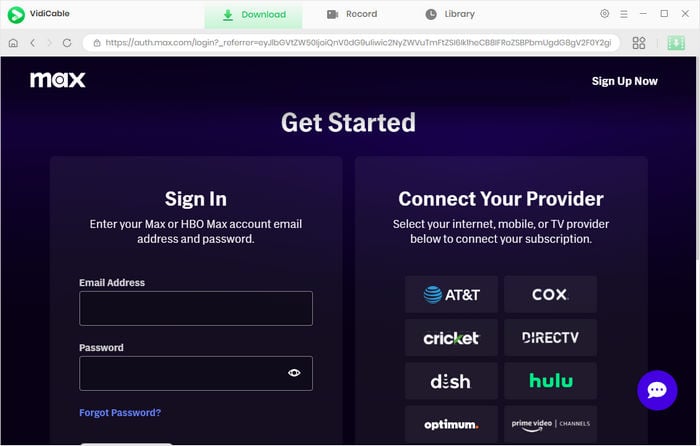 Step 3

Customize Output Settings

Before you start to download HBO Max videos, you can customize the output settings of VidiCable Video Downloader. Click the Settings button, which looks like a gear icon, on the upper right corner and the Settings window will pop up. And you may choose the Video Format, Video Quality, Audio Language, Subtitle Language, and so on there.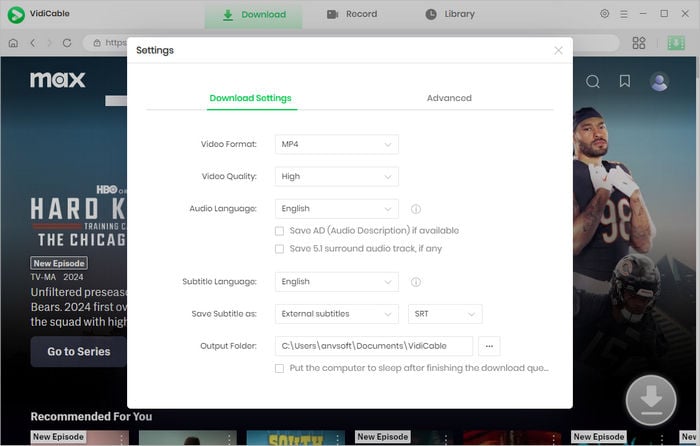 Step 4

Search for the Video

VidiCable Video Downloader offers users a seamless experience with its built-in HBO Max browser, allowing them to navigate the software just as they would on HBO Max. You can search for the video you want to download by entering the name of the video in the search box. VidiCable will list all the related results for you.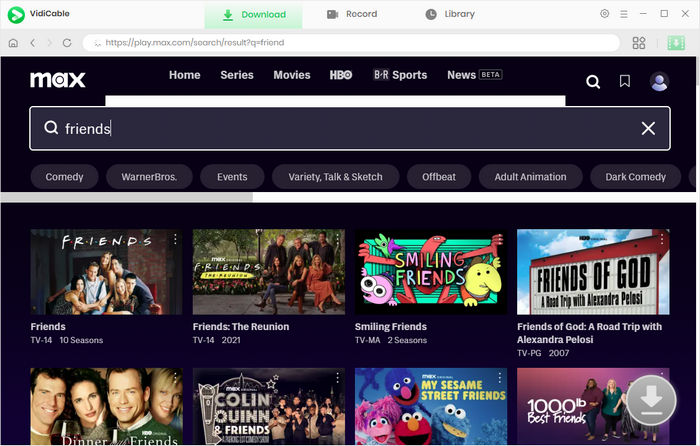 Step 5

Select Advanced Settings

By selecting the thumbnail of the video, you will be redirected to the page that contains all the details about the video. At the same time, the gray download button in the lower right corner will be replaced by a green button.

To download HBO Max series, you can click the Download icon to choose the season and episode, and then click the Advanced Download icon to choose the advanced settings you prefer. To download a movie, you may click the download icon to open the advanced settings window.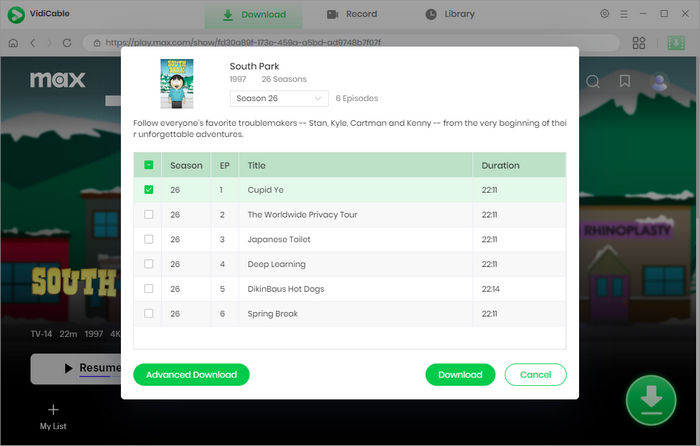 Step 6

Download the Video

You can download the video now. All the downloaded videos will be saved to the folder you've chosen previously. To find your downloaded videos, you can click the Library icon and find them there.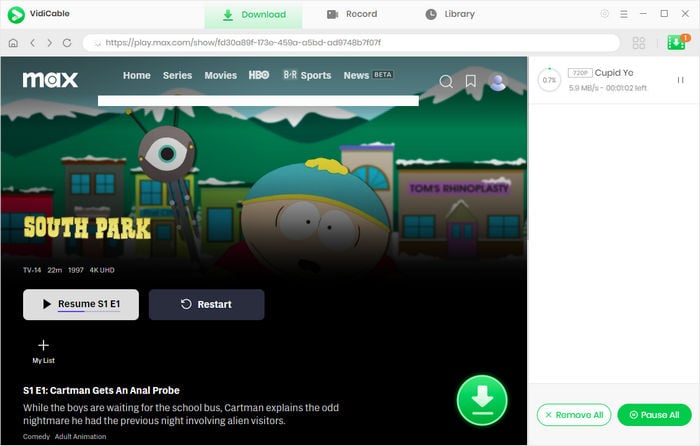 That's how VidiCable runs to download a video and the operation is quite simple. You can watch the downloaded videos on any device you prefer without limitations and free of advertisements. With this all-in-one program, you can easily enjoy videos from multi websites. If you have interest in this program, please download it and have a try.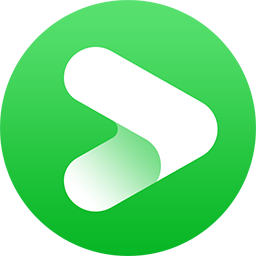 Get your favorite streaming movies& shows recorded right now!
Free Trial
Free Trial
Categories
Got another minute? Check out:
Here is a review of the best all-in-one video downloader VidiCable.