How to Download Disney+ Video in MKV Format
Disney+ has been seen as one of the biggest enemies of Netflix since its first launch. More than 130 million people have subscribed to it since 2019. Everyone has watched at least one or more Disney+ videos in his or her childhood or even adulthood as Disney serves not only children but also adults. Lots of people just cannot live without Disney videos. Although the subscription fee of Disney+ is relatively low, it is still a bit of expensive to keep subscribing to it month after month. Some people try to download the videos so that they don't have to pay too much for large series.
However, the videos you downloaded from Disney+ can only be available for 30 days and once you start to watch them, you have to finish watching within 48 hours. Luckily, there is a way to solve the problem: Download the videos as MP4 or MKV files with a Disney+ video downloader so that you can save the videos forever. If you are trying to download videos from Disney+ in MKV format, here we can introduce a professional Disney+ video downloader called VidiCable for you. If you are trying to download videos in MP4 format, please turn to How to Download Disney+ Video in MP4 Format.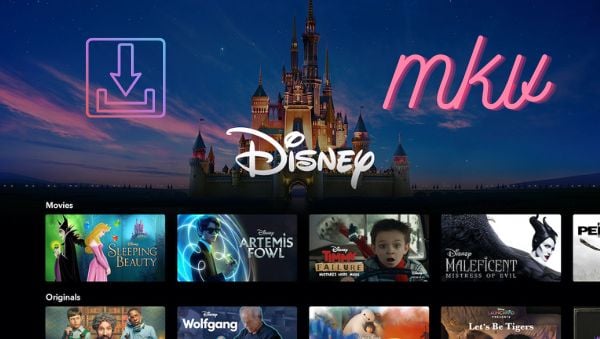 ---
Tool Required: VidiCable Disney+ Video Downloader
VidiCable is an all-in-one program that enables you to download content from all kinds of streaming websites such as Disney+, Netflix, Amazon Prime Video, YouTube, HBO Max, Paramount+, Discovery+, TikTok, etc. Over 15 websites are offered for you to choose. You can download videos from the platforms in MKV or MP4 format and the downloaded videos can keep a high quality (up to 1080P). Note that given by the restriction of Disney+, you can only download videos to at most 720P quality. The videos will preserve the original subtitles and audio tracks. You can download a batch of videos at the same time and they will be downloaded very fast. Should you meet any problem, you can ask the support team for help without charge. When the videos are downloaded, you can keep them forever, play them on any device you want, and enjoy them with no time or ad limits.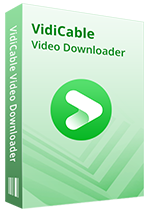 Features of VidiCable Disney+ Video Downloader:
Free record videos from Twitter, YouTube, Vimeo, TikTok, Dailymotion and more.

Upgrade to record shows and movies from Netflix, Amazon Prime, Disney+, Hulu, HBO Max, Discovery+, Paramount+.

Save your favorite videos in MP4 or MKV format.

Preserve multilingual audio tracks and subtitles.

Safe and clean, no ads or any plugins.
Download Win
Download Mac
---
Tutorial: How to Download Disney+ Videos in MKV Format with VidiCable
Before you read the following tutorial, please install VidiCable, which is available on Windows and Mac systems, on your computer first. Now follow the tutorial below and download Disney+ video in MKV format with VidiCable.
Step 1

Select Website

Launch VidiCable on your computer and click Account Setting in the Setting window, which will present all the available websites for you. Select Disney+ and the program will restart to apply the selection.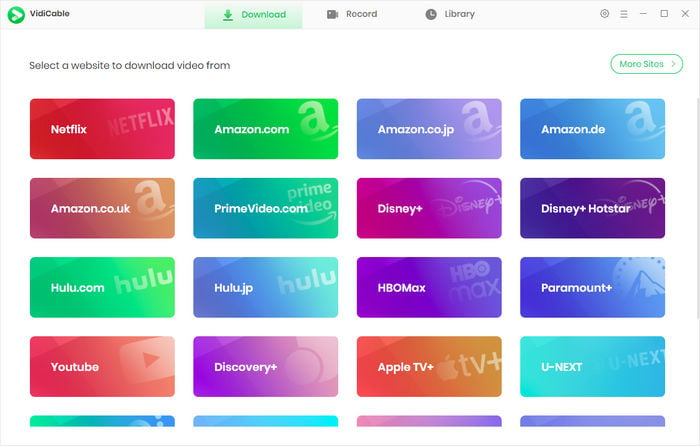 Step 2

Log in to Disney+ Account

Now, you can enter random words into the search bar, and press "Enter", then you will be prompted to log in to your Disney+ account and select profile.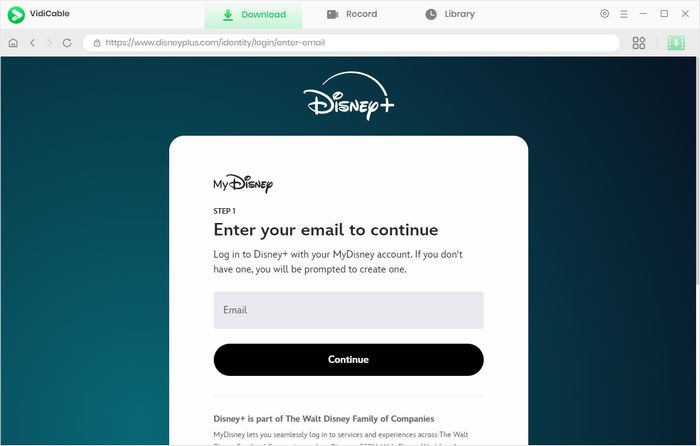 Step 3

Customize Output Settings

After the selection, you can customize the Settings according to your preference. You can click the icon in the upper right corner to open the Settings window, where you can choose the video quality, output folder, etc.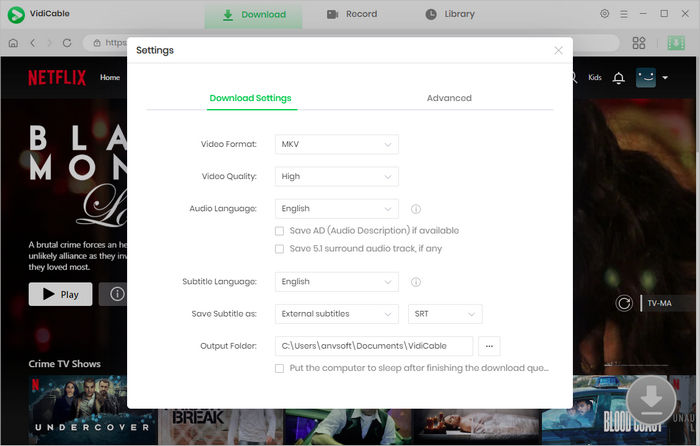 Step 4

Search for Videos

Next, you can start to search for the video that you want to download. You can search for the video by entering the name of the video or copying and pasting the link of the video into the search box. VidiCable will list the results for you. It is suggested that you play the video on the official website to check whether it is available.

Note: The site that you want to download the video from must match with what you've selected in Step 1.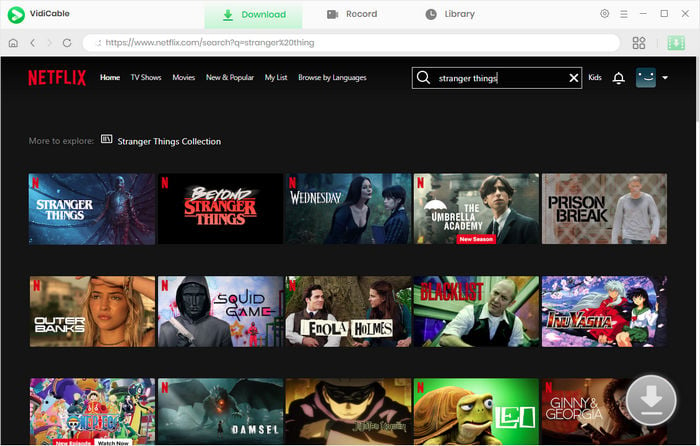 Step 5

Select Specific Audio Track, Video Quality and Subtitle

Before you start to download the video, please choose the Advanced Download options first.

If you want to download a TV show, you can click the Download icon to choose the titles and seasons in the pop-up window first and then click the Advanced Download icon at the bottom left corner to choose the video quality, subtitle language, and audio track.

If you want to download a movie, you can click the Advanced Download icon, which is next to the Download icon, to choose the video quality, subtitle language, and audio track.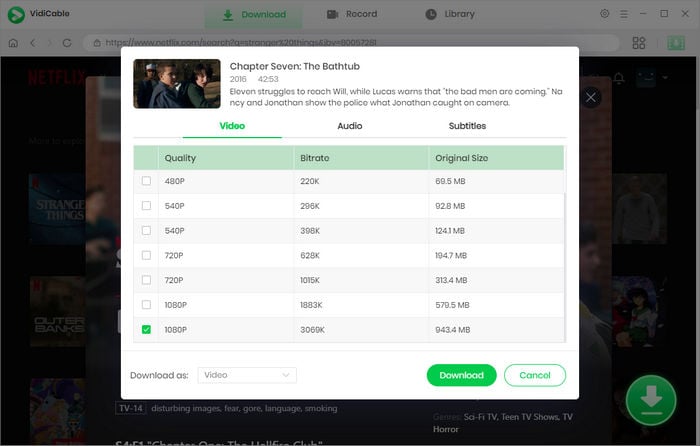 Step 6

Download Videos

Now you can download the video by clicking the Download icon. VidiCable will automatically download the video into the folder that you have chosen in Step 3. You can check the downloaded video in the Library. To locate the video file, you can click the File icon.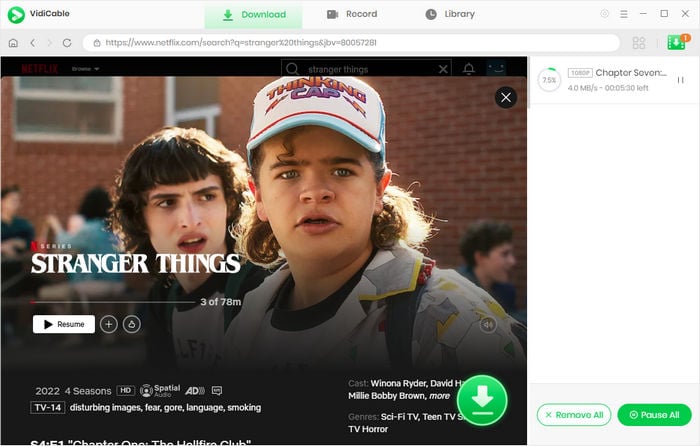 Conclusion
Now you can enjoy the downloaded videos from Disney+ in MKV format at any time on any device you like. Having known a bit about VidiCable, you may feel that the program is exactly what you need. Install it on your computer and download videos from Disney+ and other streaming platforms now!
Note: Only the first 5 minutes of each video can be downloaded with trial version, please purchase a license to enjoy the full video. It is suggested that to download the trial version and have a test before purchasing it.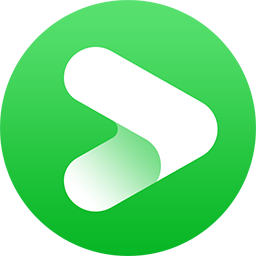 Get your favorite streaming movies& shows recorded right now!
Free Trial
Free Trial
Categories
Got another minute? Check out:
This article will teach you to record videos from Disney+ on your Mac computer with VidiCable.