Easy Way to Move Amazon Video to USB Drive
When you stream Amazon Prime often and have too many video downloads stored on your desktop or laptop PC, you can experience some serious performance issues. If you're experiencing lag, freezing programs, or difficulty finding important documents, it may be time for thorough cleaning of your computer's hard drive.
Moving Amazon videos to a USB drive could be a great option for your freeing up space. The current version of the Amazon Prime Video app saves all downloaded movies and TV shows to the following folder:
C:\Users\UserName\AppData\Local\Packages\AmazonVideo.PrimeVideo_pwbj9vvecjh7j\LocalState\Downloads
The downloaded videos are saved as local files. However, they cannot be opened with media players. And if you move them to other drives, all those files will be unreadable. Worse yet, unlike Netflix, the Amazon Prime app does not offer an option to change the default download folder. Is there any alternative way to store Amazon videos on USB drives?
Fret not, below we will introduce a powerful Amazon Video to USB Downloader for your downloading Amazon videos to the USB drive and freeing up computer storage.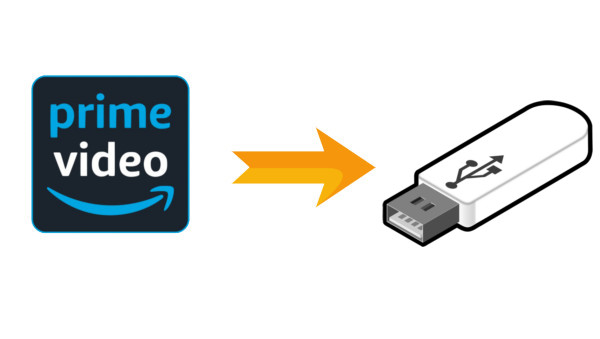 The main tool required to save Amazon video to USB is VidiCable. This user-friendly software allows you to easily download videos from various video sites, including Prime Video. Regardless of whether the video is rented or purchased, as long as you are able to play it on your device, VidiCable can download it as a local file with high-quality audio and video intact.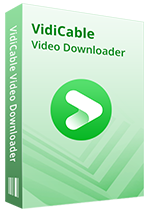 Features of VidiCable Amazon Downloader:
Download any content from Amazon to PC

Offer access to a vast collection of movies, TV shows from various sources.

Ouput MP4 or MKV format

Preserve multilingual audio tracks and subtitles.

Works on both Windows and Mac.
Download Win
Download Mac
---
Tutorial: How to Download Amazon Videos to USB Drive with VidiCable
Step 1

Choose the Appropriate Amazon Site

Open VidiCable on your PC and select Amazon from the list of supported video sites. Be sure to choose the appropriate Amazon site for your region. Once selected, log into your Amazon account.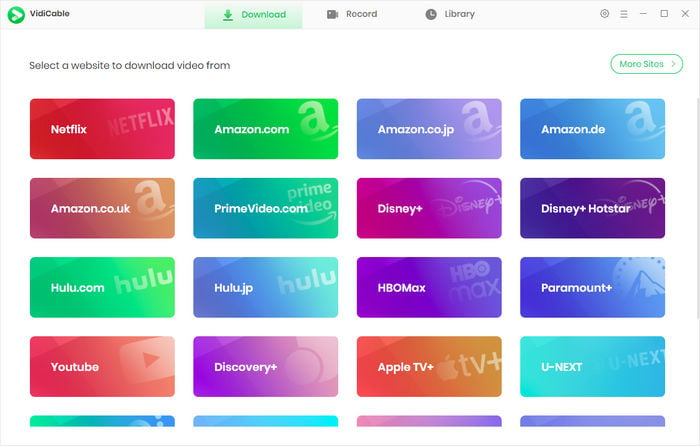 Step 2

Search for Videos

VidiCable Video Downloader comes with a built-in Amazon Prime browser that allows users to navigate the software easily. To find a video, click on the magnifying glass icon located in the top right corner to display the search bar. Simply enter the name of the video, and a list of relevant search results will appear.
Step 3

Change the Output Path

Next, open the Settings window by clicking on the Gear icon. Here, you can change the output path by inserting a USB drive and setting it as the destination folder. Alternatively, you can download the videos to your computer first and then transfer them to a USB drive.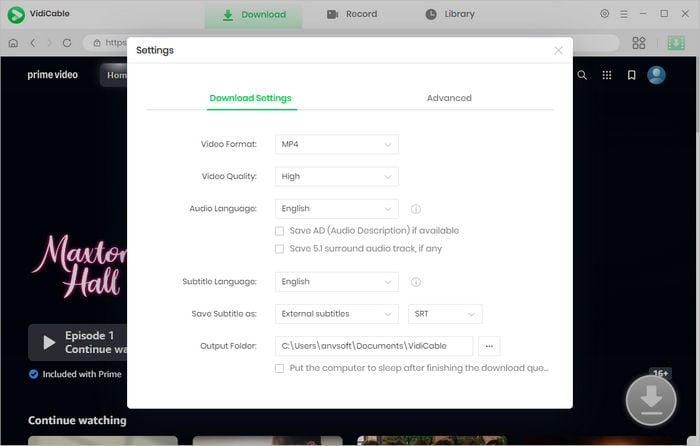 Step 4

Select Specific Settings

Once you have found the video you want to download, tap on its thumbnail. The download button in the lower right corner will turn green. Click it, then you can customize the video quality, audio track, and subtitle track according to your preferences.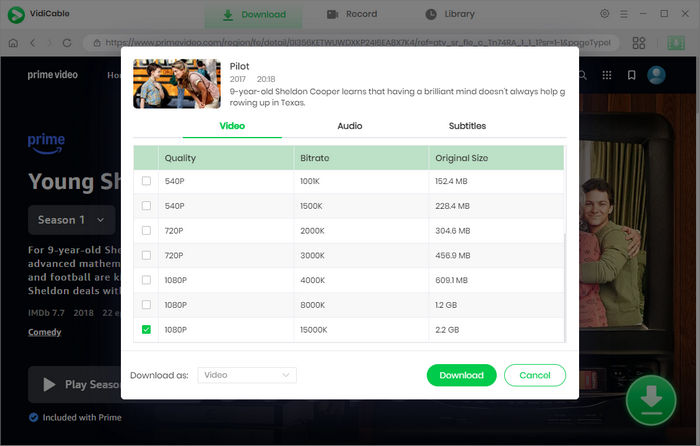 Step 5

Download Videos to PC or USB Drive

Finally, click the download button to start the download process. Once completed, you can find the video in the destination folder. Congratulations! You can now watch the downloaded videos on any device you prefer.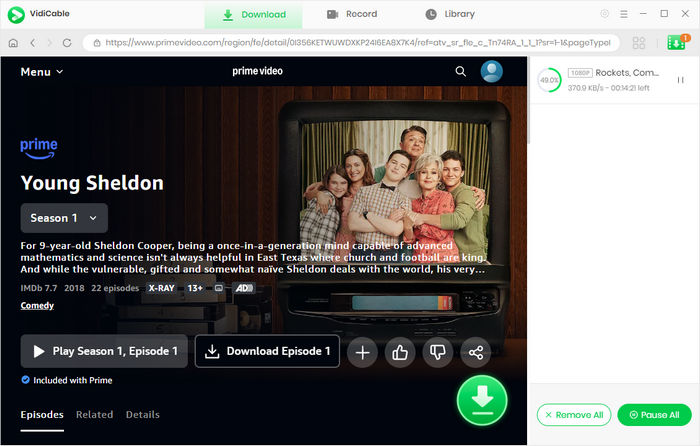 The process is pretty easy. There list two methods for your reference.
Method one:
Find the location of your downloads, right-click it, and then select "Copy" from the dropdown list.
Open the drive for the USB Flash Drive, right-click the blank space, and choose "Paste".
Wait a while, your Amazon downloads will be saved to your USB Drive.
Method two:
Select the files that you want to copy.
Right-click it, select "Send" and find your target drive from the list.

Wait for a while, your Amazon downloads will be saved to your USB Drive.
Q1. Can I download Amazon Prime movies to a USB drive?
A: Yes, it is possible to download Amazon Prime movies to a USB drive using third-party software such as VidiCable.
Q2. Do I need a special USB drive to download Amazon Prime movies?
A: No, any USB drive with sufficient storage capacity will work. However, it's recommended to use a USB 3.0 or higher for faster data transfer speeds.
Q3. Can I watch downloaded Amazon Prime movies on other devices?
A: Yes, you can transfer the downloaded movies to other devices that support USB playback. For example, you can watch the movies on a smart TV, gaming console, or media player.
Q4. How many Amazon Prime movies can I download to a USB drive?
A: The number of movies you can download depends on the storage capacity of your USB drive. For instance, a 64GB USB drive can hold approximately 20-25 HD movies.
Final Words
In conclusion, downloading Amazon Prime movies to a USB drive is a convenient way to watch your favorite content on the go. With third-party software such as VidiCable, users can easily download and customize the video quality, audio track, and subtitle track according to their preferences. It's important to choose the appropriate Amazon site for your region and select a USB drive with sufficient storage capacity for optimal performance. By following the step-by-step guide provided in the article, users can confidently download and transfer their favorite movies to a USB drive for easy playback on any compatible device.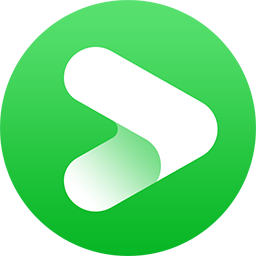 Get your favorite streaming movies& shows recorded right now!
Free Trial
Free Trial
Categories
Got another minute? Check out:
Top free sites for streaming movies and TV series online.