Download HBO Max/Max Videos on PC to Watch Offline
"Why can't I download content when on PC?
"I saw I could download content on HBO Max when using my cell phone, decided to try the same with HBO Max on PC to avoid the buffering, but the option is not available."
There are plenty of great movies and TV shows on Max for your streaming enjoyment. Simply with an Ad-free subscription plan, you can also download your favorite titles to watch offline. That really comes in handy, especially when you travel abroad, or you might be in a location where there isn't a reliable internet connection. However, bear in mind that, the download feature is only available on phones or tablets. If you try to download HBO Max movies or series on PC, you will encounter the same situation as above.
There is no official HBO Max app on PC. You can only stream HBO Max video on computers through the web browser. And it is not possible to download content from HBO Max onto your PC or laptop via the web browser like it is with the app. You can use screen-recording software to achieve the same means, but the process is pretty time-consuming and the result is bad. So here comes the question: is there any alternative professional way to download HBO Max videos on computers?
Absolutely, below we will show you a wonderful HBO Max Video Downloader to make it happen.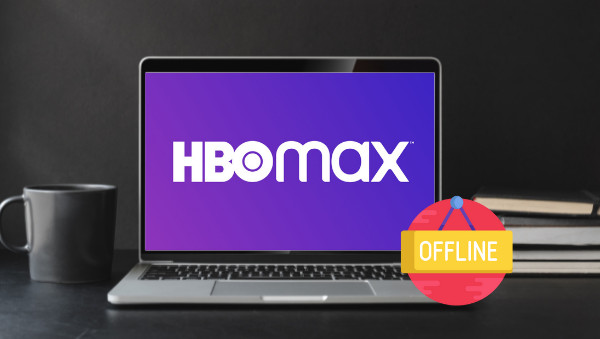 ---
If you want to download HBO Max/Max content on your PC, you'll need:
A valid HBO Max/Max account. A with Ad-based plan is also supported.
A stable internet connection.
A reliable HBO/Max video downloader.
A Windows or Mac computer with enough storage.
VidiCable Video Downloader is a professional tool that can help you download videos from over 15 popular streaming websites, including Max(HBO Max). With this powerful tool, you can easily download Max(HBO) videos in MP4 or MKV format at lightning-fast speed, while keeping the multilingual audio tracks and subtitles intact. The program works seamlessly on both Windows and Mac computers. Once downloaded, you can transfer and play the downloaded videos on other devices.
What's more, this impressive tool can also download videos from Facebook, Twitter, YouTube, Vimeo, TikTok, Dailymotion, XboxClips, CBS, Netflix, Amazon, Disney+, Hulu, Discovery+, Paramount+, and locally stored videos.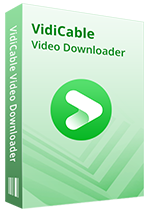 Features of VidiCable HBO Max Downloader:
Download Max Video to Windows or Mac

Record content from Netflix, Amazon Prime, Disney+, and more.

Keep high quality video and audio including 5.1 audio.

Retain video information for management.

Save subtitle in different mode to make it accessible on any device.
Download Win
Download Mac
---
Tutorial: How to Download HBO Max Videos with VidiCable
The program is easy to use. Below is the how-to:
Step 1

Select Website

Launch VidiCable Video Downloader, and select HBO Max from the supported websites. You will be taken to the main interface of Max. It is similar to the web player of Max official site.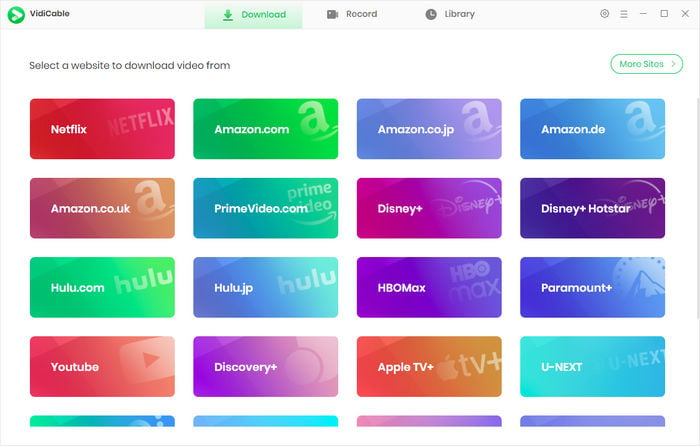 Step 2

Log into Max Account

You are required to log into HBO Max account first. Please click Sign In to pop up a login page, then you can log into HBO Max.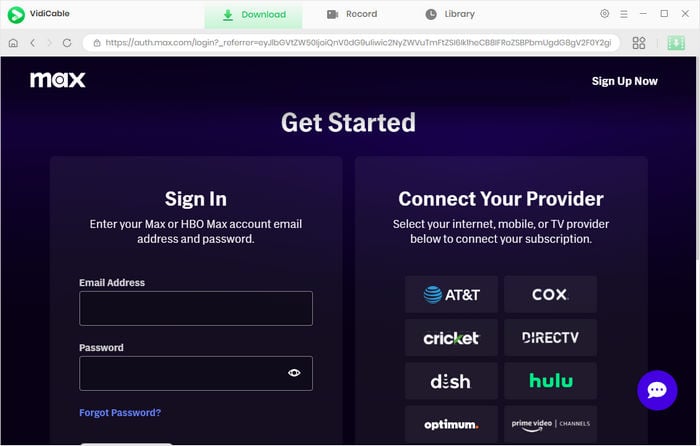 Step 3

Adjust Download Settings Like Format and Quality

Before you download on HBO Max, you might need to make some adjustments to the app's settings. Tap on the Settings button found on the upper-right of the program to open the Settings window. Here you will see a few sections. Just choose your desired options.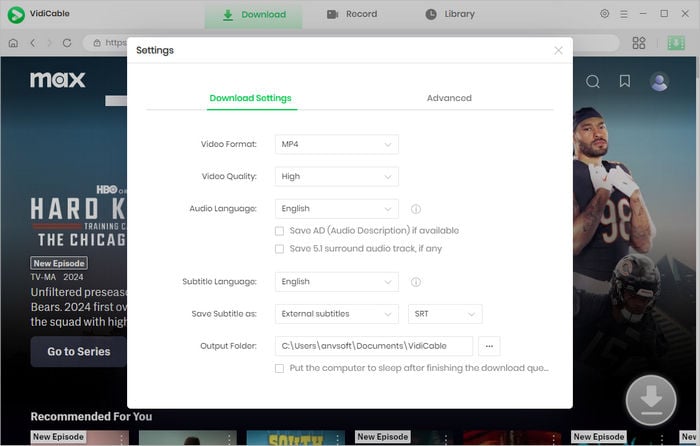 Step 4

Find Max Videos

By including an Max browser, VidiCable Video Downloader ensures that users can interact with the software in a manner comparable to their usage of Max. Now, you can search for the videos by entering the name of the video you want to download, "Game of Thrones" for example, in the search box.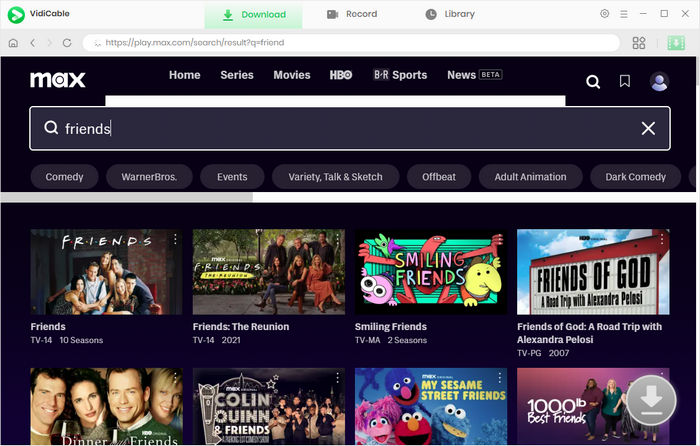 Step 5

Select Season, Titles, or More Specific Options

After clicking the video, you will notice the download icon located at the bottom-right corner turning green. Simply tap on it to begin selecting the season and episode for downloading TV shows, and to choose additional settings such as video quality, audio preferences, and subtitles for downloading films.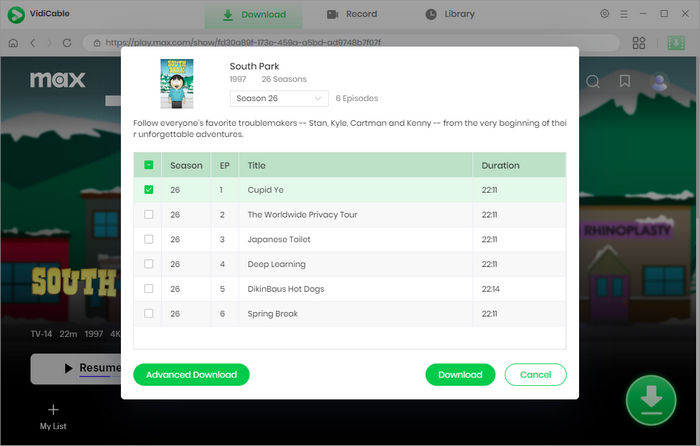 Step 6

Download Videos

Now, you can hit Download to save your video to computers.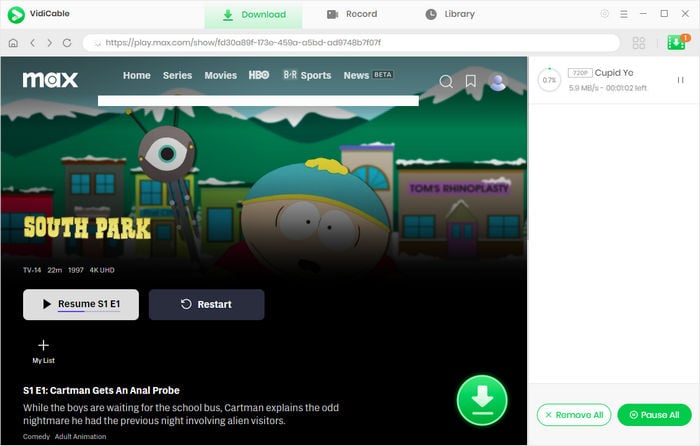 There you have it, that's how to download HBO Max videos on PC with VidiCable. The downloaded content will be stored on your devices forever and is transferrable across devices. Download the app and have a try.
---
The process to download Max (HBO) videos on mobile devices is fairly easy. Before downloading, please make sure you have Max's Ad-Free plan and have installed the latest Max app on your devices.
There are three Max subscription options for your choosing:
With Ads plan: $9.99 per month or $99.99 per year.
Ad-Free plan: $15.99 per month or $149.99 per year
Ultimate Ad-Free plan: $19.99 per month or $199.99 per year
Once ready, we can follow these steps to download content:
Step 1. Open the app on your phone.
Step 2. Search for the movie or show episode to download.
Step 3. Tap on the movie or show episode details.
Step 4. Tap on the "Download" button and wait for a while.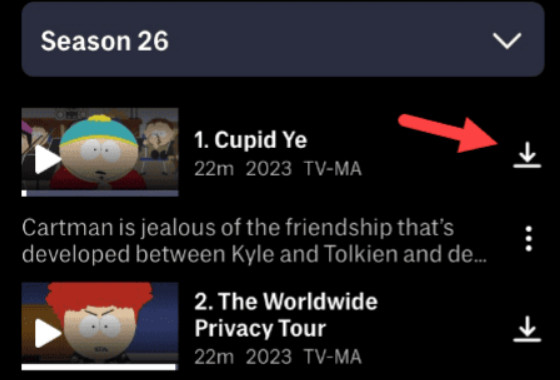 Step 5. Once finished, tap on the profile icon and then select the "Downloads" tab for a list of all videos available to watch offline.
When using the Max app to download content, there are some important limits that you should know:
Not all titles on Max or HBO library are available for download.
Downloads of content that has not been viewed will expire after 30 days and 48 hours once you begin watching it.
Additionally, if the specific show or movie is no longer available on the Max service, the downloaded content will also expire.
You can only download a total of 30 downloads for Ad-free plan and 100 download for Ultimate plan (across all profiles and devices).
Wrap Up
Max offers an offline viewing feature, allowing you to watch your favorite content without an internet connection. However, to make the downloaded content playable, you must maintain a subscription to its Ad-free plan. If your subscription expires, you will lose access to the downloaded content. Additionally, the download feature is unavailable on computers.
If you want to enjoy your favorite shows like Game of Thrones on your devices without any restrictions, VidiCable Video Downloader is the perfect solution. With this tool, you can easily download Max content and watch it offline without worrying about any limitations.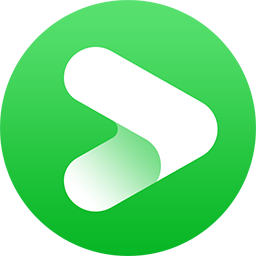 Get your favorite streaming movies& shows recorded right now!
Free Trial
Free Trial
Categories
Got another minute? Check out:
Top free sites for streaming movies and TV series online.
Keep HBO Max video after canceling the subscription.